I'm glad you've come back for another fun-filled installment of random factoids about moi coming straight at 'cha!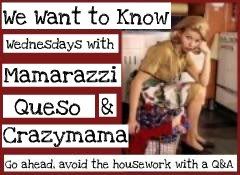 Join the party with
Mamarazzi
,
Queso
, and
Crazymama
!
1. do you have any musical talents?
Do I?! Why yes I do. I'm a singer. I have been in choirs all through school and even have my musical theatre degree. And I have been known to tickle the ol' ivories in my day, although I am WAY rusty...it's been awhile. Also, I play a mean game of Rockband!!
2. what role, if any, does music play in your life?
Well, huge actually. I don't do anything without it. Cleaning, showering, driving, um other...you get me. If I didn't have music, I might actually die.
3. what is your all time favorite song?
I can not answer this question. It would be like choosing my favorite child. I can't do it. Perhaps I can give you SOME of my favorite artists?! The one's that I can listen to anytime, any song, any album and LOVE it?! Okay. Three Days Grace. Jason Mraz. Dave Matthews. Maroon 5. Bruno Mars. Pink. Breaking Benjamin. Everclear. The Killers. Staind. OneRepublic. Those are the ones that stick out in my mind without having my Ipod handy anyway.
4. do you sing in the shower?
Do i ever!! Man alive, it's not a shower unless we've had at least one musical number + encore! :) The acoustics are just better in the shower! Also, while driving. It's embarrassing really.
5. has a song ever made you cry?
Um yeah. Let's not talk about the emotional douche bag I've been lately. I am right at this very second watching the Glee episode where Finn and Kurt's parents get married and they sing those 2 Bruno Mars songs and I'm BAWLING like a baby! Jeesh! Also, the ones what get me every time are "And They Do" by Trace Atkins, "In My Daughter's Eyes" by Martina McBride, "Perfect" by Pink, and "Let Them Be Little" by Lonestar. I know, they're mostly all country...bet you didn't expect THAT coming from me did ya?!