Hey! It's been SO long since I played along with We Want To Know Wednesday and I have missed it for sure! So let's just jump right in here, shall we?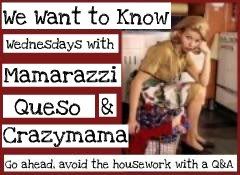 #1 How did you celebrate Halloween? Trick or treating? Adult party? Trunk or treat?
This year was jam packed with Halloween fun for sure! On Saturday the 29th we attended our church's trunk or treat, however it was so cold and windy that it was super short. Like running from car to car and leaving. Awesome. We also attended an adult party with a few close friends which was hilarious and fun and full of good food and great costumes. And then on Halloween we went to Walmart and did the rounds and then went downtown and walked the streets...each store had a little table outside and we walked and walked and walked. And came home and had some pizza with friends and watched The Nightmare Before Christmas. It was perfect actually.
#2 What candy is your favorite/the first thing you steal from the kids?
Um Twix. And Tootsie Rolls...the white kind especially. And Reeses. And Reeses Pieces. And then basically anything sweet that's left. I know, I have a problem. Also, did you know my kids did not get ONE Twix bar this year?! NOT ONE!!! Booo.
#3 What kind of candy do you give out, is it your favorite? or something you won't be tempted to eat?
We usually always get Dum Dums because my hubby loves them. Other than that I try and get the biggest bang for my buck but I refuse to buy the super cheap bag o crap because I don't want to end up with a bowl full of nasty jawbreakers and off brand suckers. So I get the good stuff, but also try and get rid of it all!
#4 How soon after Halloween do you take down decorations and put away costumes?
Uh how about that night!? Seriously, I cheat a little and decorate with mostly autumn stuff so it can stay out until I decorate for Christmas. But anything with a pumpkin or spider goes back in the box as soon as possible.
#5 When do you decorate for the next holiday?
Thanksgiving is technically already taken care of, thanks to my harvest-ish decor. And the stuff for the big game comes out the day after Thanksgiving...or as soon as we get back when we're out of town. Either way, it comes out because I hate that it only gets 25 days er so to be out. Me likey the Christmas stuff.