My dear friend informed me that NEXT MONTH IS OCTOBER!!??! WHAT THE WHAT?!?!?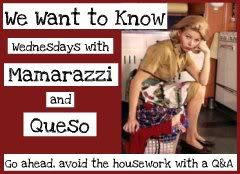 #1 What is your favorite holiday?
Well, I don't honestly know that I have a favorite holiday. I do love Christmas for sure...and New Years...and Thanksgiving. Can we just say everything from my birthday (October 27) to January 2? Can that be a holiday? Newbirgivweenmas? Yes!



#2 Do you have any fun holiday traditions? What are they?




We are kind of in the transition phase of traditions. When I was a kid, we had amazing traditions but now that some family members have passed away and we're all growing up with our own families miles apart, well, they're just not possible to keep up. Without fail, though, we do have some fun Christmas traditions. We always ALWAYS frost a million sugar cookies, have a

chili

dinner Christmas Eve, and a gigantor dinner on Christmas...gigantor meaning Prime Rib and turkey and ham...and all the fixins...for 9 people...we need help. Also, should I be concerned that all of our traditions revolve around food?
#3 When do you start Christmas shopping?
Every year I swear I'm going to start early and spread it out throughout the year. And every year I start the day after Thanksgiving and rush and rush and stress and stress...and I sorta love it that way. I work best under pressure...it's sort of a sickness.


#4 What is your favorite holiday food?
Hmmm, I love Pumpkin Pie. And caramels. And sugar cookies, even though I can have them all year 'round, something about a Christmas sugar cookie just tastes better. Gosh, can I just say I love it all?! Because seriously it is a problem.
#5 Share a favorite holiday memory. This could be tricky, I do have so SO many, as I'm sure we all do. Well, when I was a kid, my Grandpa would swear up and down every Christmas Eve that he was going to catch Santa and tie him up so he wouldn't make it to our house. They lived a block away from us and OBVIOUSLY Santa would go there first! DUH! A house with two elderly people?! Common sense had not yet developed in my kiddle brain. He teased all of us every year, and the young ones always got so upset! Ah Grandpa. I miss him!

#6 Have you ever actually tried fruitcake? I don't think so technacally. My grandma used to make a sort of applesauce cake and put cut up gum drops in it. Does that count?!