My Stephy has started doing this fun thing every Wednesday.
And I, being one not to think for myself and follow the crowd, have decided I wanna play too!!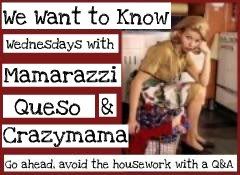 #1 Which activities make you lose track of time?
Facebook. Freakin facebook! Not even kidding, it's like a time warp every time I get on there! That and my daily blog reading. I only intend to sit down for a few minutes and end up looking at the clock in disbelief hours later. It's a good thing I can nurse a baby and type at the same time! Jeesh!
#2 Is there such a thing as perfect?
I like to think so. My life right now is practically as perfect as it could get I think. I've got a super fantastic husband who works so hard so I can be a mom, I've got my boys and finally my girl, I've got the best friends a girl could ever ask for. My house is clean, my baby sleeps for a 6 hour stretch at night, I've lost all but 6 lbs of my baby weight. Seriously, I am one lucky lady!
#3 When do you feel most like yourself?
I feel like I have more than one self, if that makes any sense at all. I feel so at home and like myself when I'm on stage, be it singing or in a play. But I also feel like myself when I'm hanging out with friends and talking and being crazysilly and having those sometimes late night chats where the conversation gets really deep and sometimes emotional and most always laughing til the tears are flowing. And my newest self is when this whole mom thing really clicks and things are just really good with the kids and hubby and everyone's happy and having fun and everything is going right and I step back and just soak it all in.
#4 Describe your life in a 6 word sentence.
I think I need to pee. (yup, that oughta cover it!)
#5 Share one of your most beloved childhood memory.
Ooh this is a toughy, I had a pretty stellar childhood. There is this one memory I have from when I was really little, like maybe 4 or 5. And we were visiting my Gramma Crapo in Sandy, Utah. For some reason, my family had gone to bed already and I was still up and chillin' with my Gram. She lives on a hill in Sandy and has THE most amazing view of the Salt Lake Valley. Amazing. And we were looking out her window into the night and there were searchlights going somewhere. I asked her what those huge lights were and she explained that sometimes people use those to announce when something amazing is happening, when they are trying to get people's attention and spread the news. My little brain was trying to figure this out and I asked, "Like when someone has a baby?" My sweet Gramma laughed and told me in her loving way that it was more like a new movie or a car dealership or a evening party of sorts. It's not really anything spectacular that happened, I just remember how kind and loving she was with me and being able to have a little moment with her was rare and so special.